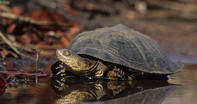 © Nigel Dennis
Name
Serrated Hinged Terrapin (Pelusios sinuatus)
Class
Reptilia
Order
Testudines
Family
Pelomedusidae
Description
Males and females measure 300 to 400 mm in length, the serrated hinged terrapin is the biggest hinged terrapin. Its carapace and bridge are entirely black in colour, and the skin of the limbs and neck is a pale olive-grey. The plastron is yellow in the middle, bordered by a black angular pattern.
Serrated Hinged Terrapin Breeding
During the months of October to January, the female lays 7 to 25 eggs about 500m from the nearest water source. The eggs hatch during March and April.
Serrated Hinged Terrapin Distribution
The serrated hinged terrapin can be found in South Africa in region of Zululand, as well as in tropical East Africa and along the Zambezi River to the Victoria Falls.
Field Notes
When threatened, this terrapin emits a foul smelling scent.