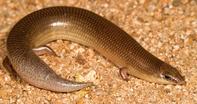 © Tyrone Ping
Name
Sundevall's Writhing Skink (Mochlus sundevallii)
Class
Reptilia
Order
Squamata
Family
Scincidae
Description
Males and females of this small skink species measure 60 to 80 mm in length. Its body is light brown to grey in colour and its body off-white. At the base of each scale is a dark spot which gives the Sundevall's writhing skink an overall speckled look, reaching to the bottom of its tail.
Sundevall's Writhing Skink Diet
Their diet consists of small invertebrates.
Sundevall's Writhing Skink Breeding
Females lay two to six white, oval-shaped and soft-shelled eggs during the summer months. They lay them underground or in abandoned anthills.
Distribution
The Sundevall's writhing skink can be found in South Africa in the Kalahari Gemsbok Park. It occurs in Angola and Somalia, as well as in the northern regions of sub-Saharan Africa.