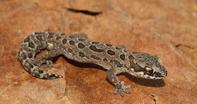 © Tyrone Ping
Name
Spotted Thick-toed Gecko or Spotted Gecko (Pachydactylus maculates)
Class
Reptilia
Order
Squamata
Family
Gekkonidae
Description
Male spotted thick-toed geckos measure 48mm in length, whereas females are 58mm. They are tiny, gentle creatures with fat bodies and rounded snouts. Its back is grey to greyish-brown in colour, and its belly off-white. It is marked on its back in four rows of blackish, elongated splotches and at times meld to form irregular crosslines.
Diet
They predominantly feed on spiders and small insects.
Breeding
Females lay two to three clutches of hard-shelled eggs, each consisting of two eggs. They are usually gravid from September to February. Incubation lasts 100 to 120 days.
Distribution
The spotted thick-toed gecko can be found in South Africa on the inland escarpments of the Western Cape – from Sutherland to Knysna, stretching to the coastal regions of the Eastern Cape and KwaZulu-Natal to Swaziland and the extreme South Eastern Mpumalanga.
Field Notes
There are more than 30 gecko species in Southern Africa, and the spotted thick-toed gecko is one of the more common species. Geckos occur in a variety of habitats.