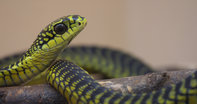 © Roger de la Harpe
Name
Boomslang [Dispholidus typus]
Class
Reptilia
Order
Squamata
Family
Colubridae
Subspecies
Although separated and sub-classified in the past there is now only one genus in the species
Length F
1 260 mm
Length M
1 290 mm
Description
The boomslang has large eyes with round pupils, that dominate the distinct head. This is a large snake whose scales can range from bright green, black, grey, red and orange.
Distribution
The boomslang are found throughout sub Saharan Africa, and are distributed along the coast from the northern region down to the eastern and southern coasts to Cape Town in South Africa.
Breeding
Mating for the boomslang occurs during the spring in South Africa. Up to 10 – 14 eggs are laid within tree hollows or leaf litters during the summer and incubations lasts 2-3 months.
Venom
The boomslang is a shy snake and rarely bites. Its venom contains potent haemotoxin that prevents blood clotting, causing death from haemorrhage.
Diet
The boomslang feeds on smaller animals such as lizards and birds.