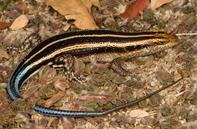 © Tyrone Ping
Name
Five-lined Mabuya, Rainbow Skink or Rainbow Mabuya (Trachylepis margaritifera)
Class
Reptilia
Order
Squamata
Family
Scincidae
Description
Both male and female rainbow skins are between 85 to 110 mm in length. Their colour differs according to sex and age. They have small transparent windows in each lower eyelid, and their fore and hind-limbs are as long and overlap when pressed against its body.
Diet
The Rainbow Skink feeds mainly on insects.
Breeding
During summer the female lays six to ten eggs which hatch after about 62 days. Northern populations of rainbow skink could lay two clutches of eggs per season.
Distribution
The rainbow skink can be found in South Africa in KwaZulu-Natal and throughout the Lowveld. They can also be found from Zimbabwe to Algeria and Senegal.
Subspecies
The five-lined mabuya has three subspecies. The Mabuya quinquetaeniata margaritifera was also a subspecies until 1999, when it was recognised as its own species. Its three subspecies include the following:
Trachylepis quinquetaeniata quinquetaeniata
Trachylepis quinquetaeniata langheldi
Trachylepis quinquetaeniata riggenbachi