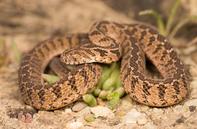 © Tyrone Ping
Name
Rhombic Egg-eater or Common Egg-eater (Dasypeltis scabra)
Class
Reptilia
Order
Squamata
Family
Colubridae
Description
Female rhombic egg-eaters are longer than males, measuring 964 mm whereas males are 595 mm in length. This is a slim, solid snake.
Its head is small and rounded, and its mouth is lined in black. The tail is short, with the males being shorter than the females. The colour of its back varies from a light brown to olive-brown to slate grey.
The middle of its body is marked by a series of dark, square-like patches, bordered by narrow dark bars.
Diet
The rhombic egg-eater only feeds on eggs. Its mouth is lined with ridges which aid the swallowing of the egg. Once the contents of the egg has passed through the stomach, the shell is regurgitated whole.
Breeding
During the summer months, the Rhombic egg-eater lays six to 25 eggs which take 80 to 90 days to hatch.
Distribution
This snake is found throughout the African subcontinent, stretching to Sudan in the north and Gambia in the west.