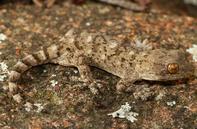 © Tyrone Ping
Name
Wahlberg's Velvet Gecko (Homopholis wahlbergii)
Class
Reptilia
Order
Squamata
Family
Gekkonidae
Wahlberg's Velvet Gecko Description
Male and female Wahlberg's velvet gecko's measure 90mm to 110mm in length, making them rather large geckos. They are a light to dark greyish-brown colour on their backs, marked by dark and light crosslines and often a line of blotches along the spine. Their bellies are an off-white colour and vaguely spotted, and no black band on their snouts.
Diet
They predominantly feed on grasshoppers and cockroaches, but also eat termites, millipedes and big insects.
Breeding
Females lay two large, hard-shelled eggs under bark or in the cracks of rocks.
Wahlberg's Velvet Gecko Distribution
The Wahlberg's velvet gecko can be found in South Africa in Zululand and Limpopo. It also occurs in southern Mozambique, Zimbabwe and Eastern Botswana.
Field Notes
These geckos have been reported to inhabit a variety of environments from coastal scrub to savanna, and have been seen taking shelter in rocky overhangs, under rocks and dried leaves.