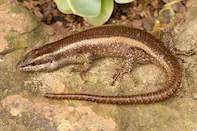 © Tyrone Ping
Name
Striped Skink or African Striped Skink (Trachylepis striata)
Class
Reptilia
Order
Squamata
Family
Scincidae
Description
The striped skink is medium sized, both males and females measuring 60 to 90 mm. Their body colour differs between subspecies. They have a transparent window in each lower eyelid and lobed ears. Males of northern populations have orange-brown heads and yellowish throats during their breeding period.
Diet
Their diet consists of small insects such as moths and beetles, and other small invertebrates.
Breeding
During summer in southern populations, single litters of three to nine young are born. In northern population reproduction takes places throughout the year. Striped skink young grow rather fast and are sexually mature at the age of 15 to 18 months.
Distribution
In South Africa, the striped skink can be found on the Wild Coast, stretching along the Orange River to the Richtersveld. They also populate Eastern Africa, Western Zambia, Angola and Southern Namibia.
Subspecies
There are four subspecies of the striped skink namely:
Trachylepis striata
Trachylepis striata sparsa
Trachylepis striata punctatissima
Trachylepis striata wahlbergii