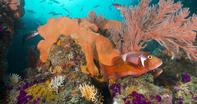 © Jean Tresfon
South Africa boasts exceptionally rich marine life. The country has a huge diversity of marine ecosystems and a variety of species, which represents an enormously valuable South African resource.
The West Coast is home to Atlantic ocean dwellers such as the African penguin and the cape fur seal. On the warmer East Coast, you'll find dolphins and the Southern Right Whales thriving in the Indian Ocean.

South Africa Online ® provides voluminous information on all South African marine life and species, available in the country's 11 official languages. Learning about South African marine life emphasises the importance of marine biodiversity and protecting precious resources.