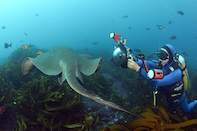 © Jean Tresfon
Diver with a venomous Stingray.
The venomous marine life of South Africa are found all along the coastline of the country, and although some pose little threat to humans, there are a few to know about before you go on an oceanic adventure. Venomous marine life are aquatic animals that can be harmful to humans if they come in contact with their stinger, tentacle or liquid. Most of these animals live far beneath the ocean's surface, but it is important to know which to look out for.
Venomous marine life who sting include jellyfish, bluebottles, anemones and starfish. Sea sponges can cause inflammation on the skin, and it is best to avoid touching sea cucumbers and fire corals. Beware of stingrays, scorpionfish, toadfish and catfish as they have sharp fins through which they deliver venom. Squid, octopus and inkfish are to be avoided as well. It is best to look and admire from afar than to come into contact with any of the above mentioned animals.
If you are intersted in learning more about these interesting creatures, dive into the Marine Guide of SouthAfrica.co.za.