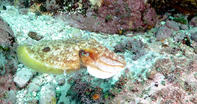 © Jean Tresfon
Common Family Name
Cuttlefish
Alias
Inkfish
Scientific Name
Sepiida
Size
Up to 1 m.
Identification
Rounded oval bodies with fin along the full length of the body. Eight arms and two feeding tentacles. Large 'W'-shaped pupils. Colouration varies and is used as camouflage.
General Info
Sepiida order falls under the class Cephalopoda which includes octopus, squid and nautilus. Often confused with squids (which don't have the 'W' pupil and are smaller). Possessing an internal bone called the cuttlebone which is used for buoyancy control. Move fast through the water. Use ink as a defence mechanism. Reproduction by eggs which are laid under ledges or coral heads.
Feeding
Feeds on fish and crustaceans.
Distribution
Occurs in all temperate and tropical oceans of the world.
Common Species
Giant cuttlefish - Sepia apama
Mourning cuttlefish - Sepia plangon
Needle cuttlefish - Sepia aculeata