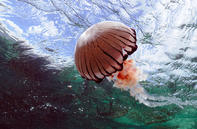 © Jean Tresfon
Common Family Name
Jellyfish
Scientific Name
Hydrozoa
Size
From 1cm up to 2,5 m (bell) and 60 m (tentacles)
Identification
Most visible identification is the gelatinous medusa (bell-shaped body). Tentacles and other organs radiate from the medusa and mouth area. Colouration is mostly transparent with blue, pink, red and white pigmentation.
General Info
Hydrozoa class in the phylum Cnidaria consists of approximately 1 750 species. Closely related to corals and anemones. They swim by contracting muscles and jetting water from the bell. Stinging cells (nematocysts) on the tentacles stun prey which is then lifted to the mouth. Eaten by turtles. Reproduce by eggs, which settle to grow into jellyfish.
Feeding
Feeds on plankton, other jellyfish and small fish.
Distribution
Occurs in all temperate and tropical oceans of the world.