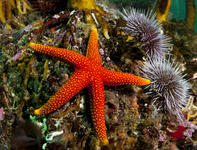 © Jean Tresfon
Common family name
Starfish
Alias
Seastar
Scientific name
Asteroidea
Size
Up to 1 m.
Identification
Flattened bodies which merge into arms. Five or more arms are present (up to 24). Ventral mouth. Have tube feet on which they move around. Some have knobs or 'thorns' on the body and arms. Colour ranges from brown, black or white to orange, red, yellow and purple.
General Information
Asteroidea class falls under the Echinodermata phylum, which includes all the Feather and Brittlestars, Sea cucumbers and Sea urchins. Slow moving, bottom-dwelling animals. Can regenerate arms if lost. Some turn their stomach inside out on prey to digest it – also called evisceration. Reproduction by pelagic spawning.
Diet
Feeds on snails, clams, oysters, small fish and detritus.
Distribution
Occurs in all oceans of the world, including the Arctic.
Common species
Granulated seastar - Choriaster granulatus
Pincushion starfish - Culcita schmideliana
Red seastar - Linckia laevigata