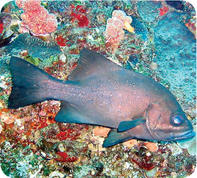 © Johan Boshoff
Common Family Name
Cavebass
Alias
Lampfish
Scientific Name
Dinopercidae
Size
Up to 75 cm
Identification
Compressed oval body. Small comb-like scales. Truncated caudal fin. Lower jaw protrudes further than the upper jaw. Blackish brown with white specks, which fade in adults.
General Info
Dinopercidae family consist of 2 genera and 2 species. Found under ledges or at entrances to caves. Makes a drumming noise. Nocturnal. Pelagic spawners.
Feeding
Feeds on zooplankton and small crustaceans.
Distribution
Occurs in all temperate and tropical oceans of the world.
Common Species
Cavebass
Dinoperca petersi