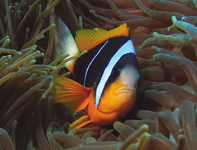 © Johan Boshoff
Name
Clownfish
Alias
Anemonefish
Scientific Name
Amphiprioninae
Size
Up to 18 cm, average 10 cm
Identification
Clownfish are rounded, fat body with large fins. They can be aggressive. Colouration differs from yellow, orange, red or black with white vertical patches or bars over the body.
General Info
Amphiprioninae subfamily consists of 2 genera and 28 species. They form symbiotic relationships with anemones. Its faeces provide nutrients and the anemone gives protection to the fish. Occurs in small family groups of three on the anemone. All clownfish are born as male and the largest male changes sex when the dominant female dies. Lays eggs close to the anemone on the substrate. The males keep watch until they hatch.
Feeding
Feeds on algae, plankton, molluscs and crustaceans.
Distribution
Clownfish occur in all temperate and tropical oceans of the world.
Common Species
Clown anemonefish - Amphiprion percula
Nosestripe clownfish - Amphiprion akallopisos
Twobar clownfish - Amphiprion allardi