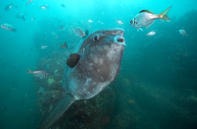 © Jean Tresfon
Common family name
Sunfish
Alias
Mola mola
Scientific name
Molidae
Size
Up to 4 m.
Identification
Disk-shaped, deep compressed body. Dorsal and anal fins are large and pointed. Caudal fin reduced to an undulating flap which is not used for propulsion. Colouration mostly light to dark grey with darker patches.
General Information
Molidae family consists of 3 genera and 5 species. Heaviest bonefish in the world, weighing up to 1 000 kg. Use dorsal and anal fins for locomotion. Squirts water through gills to turn sideways. Obtains its name from its habit of basking on the surface in the sun, thus regulating its temperature. Pelagic spawners.
Diet
Feeds on jellyfish, small fish and swimming crustaceans.
Distribution
Occurs in all temperate and tropical oceans of the world.