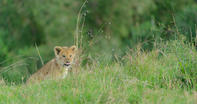 © Shem Compion
There is more to grass than your normal garden grass varieties in South Africa - although grass is the most common, overlooked plant in the world, it is surprisingly unique.
There are various South African grass species that grow in the ecosystems of South Africa, that play an important role in the balance of an animal's diet and other plant growth. South Africa Online ® explores all the grass species that thrive in different regions of the country, from stinking grass to creeping bristle grass.
Learn more about South African grass varieties.