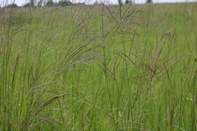 © Johan Wentzel PhD
Name
Common finger grass (Digitaria eriantha)
Description
Common finger grass is perennial, reaching a height of about 1.8 m. It inflorescence has three to 15 points which grow at the culm tip in coils. The blades of the leaves are 14 mm long approximately, and the basal part of the plant is hairy.
Uses
This grass is edible and rather tasty. It is known as the best grass for the natural cultivation of pastures in Southern Africa. The most popular cultivar is the Smuts finger grass. Common finger grass can be eaten until the late winter months and is frequently used as standing hay.
Habitat
Common finger grass can be found throughout South Africa and Southern Africa. In areas of high rainfall it grows in moist soils, particularly alongside vleis. In drier regions it grows in sandy and stony soil.
Flowers
This grass flowers during the months of January to April.
Field Notes
Common finger grass has been cloned to have many species of regional variation. Some include the Smuts finger grass, digit grass and Pongola grass.