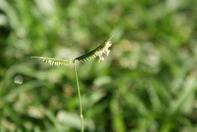 © Strohbach
Name
LM grass or Berea grass (Dactyloctenium australe)
Description
LM grass is a perennial grass and one of the most popular grasses grown in South Africa for garden lawns. The inflorescence has two or three spikes at its tip. The leaves are dark green, shiny, and have sparse hairs on their edges.
Uses
LM grass grows well in shaded areas and is used to help stabilise sand both on the coast and inland. It does not grow many leaves but is popularly grazed by animals and is palatable. It is a popular lawn grass for many gardens.
Habitat
LM grass is widely distributed throughout South Africa, found in gardens as well as the veld. In its natural conditions, it grows in sandy soil and shade in savannah areas.
Flowers
LM grass flowers from January to May.
Field Notes
This grass is identified by a variety of names according to its location. It is commercially known as Berea grass. 'LM' most likely derives from Lorenzo Marques – the name of the colonial capital city of Mozambique.