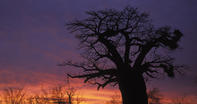 © Nigel Dennis
Baobab Tree in Kruger National Park, South Africa.
The tree is a well-known symbol of life - a fresh start, positive energy, good health and a bright future. The tree generates oxygen, stores carbon, stabilises the soil and gives life to the world's wildlife.
South Africa has a plethora of iconic, indigenous trees that add to the beauty of South African biodiversity.
South Africa Online ® delivers factual and educational information on indigenous South African trees, such as the grand Baobab and Marula trees, the sausage tree and the quiver tree.