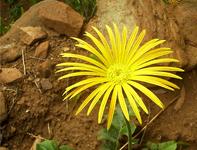 © Jacques Marais
Barberton Daisy.
Name
Barberton Daisy or Transvaal Daisy
Latin Name
Gerbera jamesonii
Description
Member of the Daisy family with more than 23 000 species, the Barberton daisy is a flower with separate leaves, often irregularly shaped and deeply lobed. Ranging in colour from yellow, orange, pink and red, it flowers during the South African spring and summer – from August to December. The Barberton daisy 'flower' is made up of closely packed florets. These flowerheads can range from compact to ray-like with some species attracting pollinators with markings on the florets.
Habitat
The Barberton Daisy's natural habitat in the Kruger National Park area and Limpopo province of South Africa.
Seed
Seeds are dispersed by wind by means of feathery hair tufts that create a 'parachute'.
Field Notes
The Barberton Daisy has become an emblem of South African organisations and was the symbol for the Blue Bulls, a famous rugby union based in Pretoria. It also appears on the flag and coat of arms of the South Africa's Mpumalanga Province.
The Barberton daisy is named for the place of its discovery, the town of Barberton in Mpumalanga Province and its discoverer, Robert Jameson. It is said to be the most popular cut flower in the world often used in floral arrangements.