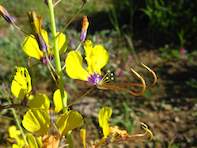 Name
Golden Cleome, Yellow Cleome or Yellow Mouse-whispers (Cleome angustifolia)
Description
The golden cleome has yellow flowers that are purple at the base, with prominent stamens sticking out. It is a dainty, open-branched herb with fine compound leaves.
Habitat
This plant is widespread and is likely to be spotted growing next to roadsides or in disturbed soils.
Field Notes
The golden cleome is used to cook with and eaten as a vegetable and is also said to have healing properties for certain afflictions. Its flowers are pollinated by ants and other insects.