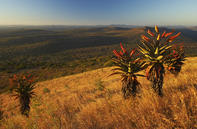 © Roger de la Harpe
Mountain Aloe.
Name
Mountain Aloe (Aloe marlothii)
Description
The mountain aloe blooms during the months of June and August. Orange, tubular flowers are carried on stocky stems and branches. These plants are tall and have a single stem coated in dried leaves. Their leaves are soft and thick, blueish-green in colour and lined with small teeth at its edges. The leaves contain a yellowish, slimy sap that has been used to treat stomach afflictions for many centuries.
Mountain Aloe Habitat
The mountain aloe can be found in South Africa in Gauteng, Mpumalanga, Limpopo, North West and KwaZulu-Natal, as well as in Swaziland, Botswana and Mozambique.
Mountain Aloe Field Notes
Like most aloes, the mountain aloe is used in a variety of treatments. People of the Zulu culture use the leaf and stem to treat roundworm infestations. It is also used by other cultures as a remedy to stomach afflictions and horse sickness.