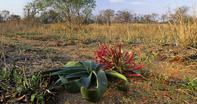 © Nigel Dennis
Blood Lily.
Name
Blood Lily or Paintbrush Plant (Scadoxus puniceus)
Description
An impressive flower, the blood lily grows up to 500 mm high. It has wavy, shiny green leaves and a spotted reddish-brown stem, bearing a single red puffy flower head. The red flower head, about 150 mm in width, has red to red-brown modified leaves surrounding the mass of dark orange to red flowers. The blood lily flowers during late spring - from October to November.
Habitat
The blood lily prefers shady areas in the grasslands and rocky outcrops of the northern parts of South Africa and further northwards to Tanzania.
Seed
Seed distribution is via squirrels and birds which eat the red fleshy berries.
Field notes
The blood lily was formerly classified as Haemanthus magnificus but due its stalked leaves it was separated from the genus recently.
Toxic in large doses, the bulb of the blood lily can be combined with other roots as a remedy against colds and asthma and ironically, can be used as an antidote to poison.