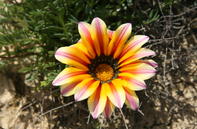 © David Fleminger
Terracotta Gazania.
Name
Terracotta Gazania (Gazania krebsiana)
Description
A low-growing plant (up to 100mm high) the gazania forms marvellous orange or white daisy-like flower heads in the early South African springtime – July to September. Leaves are 50mm long, dark green on top and white and woolly and felt-like below. Seeds are dispersed by the wind or ants.
Habitat
Gazanias shallow roots prefer open grassland regions of South Africa such as the arid of the Northern Cape Province and certain areas of the Western Cape coast and interior such as Namaqualand (the wildflower region in South Africa).
Field Notes
The Gazania forms dramatic carpets of colour after the spring rains in the arid western and northern regions of the Cape. This produces a spectacular flower spectacle is considered one of the wonders of the natural world.
With its shallow root system, the plant is considered an excellent soil retainer.