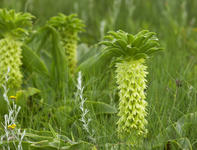 © Roger de la Harpe
Pineapple flower.
Name
Pineapple flower or pineapple lily (Eucomis sp.)
Pineapple Flower Description
The pineapple flower blooms in December. The flower head grows a dense cluster of flowers from its stem. This plant grows from a bulb that measures 10 cm in diameter, has many white roots and is flat at the base. One plant has about 12 leaves that have thick midribs and crinkled edges, and are flattened to the ground. The pineapple flower is a perennial herb.
Pineapple Flower Habitat
In South Africa, the pineapple flower can be found on the Sneeuberg Mountains, in the Western Cape, the Uitenhage District, in the Eastern Cape and from Hogsback to through to KwaZulu-Natal along the coast and into the Drakensberg. It also stretches to the Free State and areas in Gauteng, as well as Lesotho.
Field Notes
The pineapple flower has ten different species in Southern Africa including Eucomis undulata and Eucomis autumnalis. Despite the bulb of the pineapple plant being toxic, it is still used in a variety of treatments and remedies in South Africa including: backache, healing fractures, enemas, stomach ache, fever, colic, flatulence, syphilis, hangovers and urinary problems.