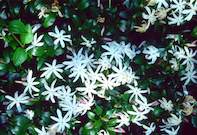 Name
Rock jasmine or Large star Jasmine
Latin Name
Jasminum stenolobum
Description
The rock jasmine is a scrambler with rich fragrant flowers that flourish in full sun. The petals are white on top and are pink on the underside. The leaves are lance-shaped.
In South Africa, the rock jasmine is often grown in gardens as a shrub, when pruned or as a climber.
Habitat
The rock jasmine grows predominantly on rocky surfaces and can be found naturally in the KwaZulu-Natal Midlands and the Kruger National Park in South Africa.
Fruit
The berries of the rock jasmine start out as green then turn black when ripe. These berries attract a variety of birds into the garden, which is why they are a popular shrub to grow.