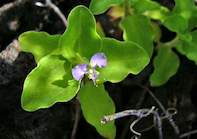 Name
Wandering Jew
Latin Name
Commelina livingstonei
Description
The Wandering Jew is a perennial ground herb and bears extremely delicate flowers that live for only a few hours long. The flowers are made up of three petals and have bright yellow stamens. The stems are made up of several nodes, which have long internodes. The leaves are alternate.
In South Africa, the wandering Jew blooms during the spring. The local people also use its rootstock for medicinal purposes.
Habitat
The wandering Jew grows in open grasslands that are found in the Northern Province and Kruger National Park in South Africa.
Field Notes
There are many other plant species with the name of wandering Jew, and it makes reference to the man who mocked Jesus on his way to the crucifixion and was cursed to walk the Earth forever.