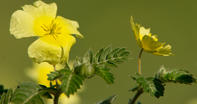 © Shem Compion
Devils Thorn.
Name
Devil Thorn or Boot Protectors (Dicerocaryum senecioides)
Description of Devil Thorn
The devil thorn is a small annual creeper with long hairy stems. A common plant bearing small claw-shaped thorns and purple flowers, it flowers in the South African summer from December to April.
Fruit/Seed
The seeds are held inside the oblong to round fruit which has two hard spines - up to 5mm in length. The fruit sticks into hooves and feet of animals and are dispersed this way.
Habitat of Devil Thorn
The plant is found in poor soil and sandy areas in Southern Africa including South Africa, Botswana, Mozambique and Zimbabwe and as far north as Malawi.