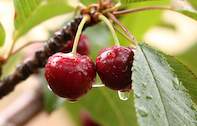 ©South African Cherry Growers' Association
The South African Cherry Growers' Association is a non-profit organisation that was established in 2001.
It formed with the intention of providing structure to the South African cherry growing industry. The association, also referred to as HORTGRO-Cherries, falls under HORTGRO which is the umbrella organisation for various horticultural industry organisations in South Africa. The two organisations liaise with each other with the purpose of directing research to address the short and long- term needs of the industry.

HORTGRO-Cherries acts as a valuable mouthpiece for the local cherry growing industry and collaborates with international cherry groups to gather valuable information about the regulations, growth, production, packaging and marketing of the cherry industry.
Part of the responsibility for the South African Cherry Growers' Association is to ensure the economical viability and sustainability of the cherry industry through coordinating actions with industry growers, distributors and partners.

HORTGRO-Cherries liaises between all these facets of the cherry industry and with the government to create an undisrupted flow of information, research, legislation and policies regarding the South African cherry industry.
The association also functions with the intention of promoting the interests of local cherry growers and producers, while simultaneously addressing the issues that remain prevalent and common within the cherry industry.
In South Africa cherry farming is confined to specific areas due to the climatic requirements for this sensitive crop. Cherries need mild summers and long cold winters, with enough cold units for a long dormancy of below 7°C....
more