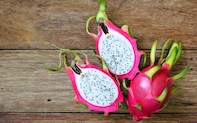 Dragon Fruit South Africa (DFSA) focuses on the expansion of the dragon fruit (pitaya) industry in South Africa through the distribution of dragon fruit cuttings, sharing of knowledge and training.
Dragon Fruit South Africa had its roots in a small nursery that started more than six years ago with a vision to establish and promote a larger dragon fruit industry in South Africa. The business went from strength to strength and is now a prominent and dedicated dragon fruit nursery that has assisted numerous local and international farmers to establish their own dragon fruit farms.
Dragon Fruit South Africa provides the necessary assistance to farmers or growers establishing a new dragon fruit farm, as well as advice on crop management, sales and sustainable farming practices.
Dragon fruit is grown in the Natal Midlands and coastal regions of KwaZulu Natal, the Lowveld area from Nelspruit to Tzaneen, Eastern Cape and in the Western Cape. The biggest new dragon fruit plantings in South Africa are around Dendron and Louis Trichardt in the Limpopo Province.
The bulk of all dragon fruit production is consumed in Asia, by specifically the Chinese, due to their belief in the good fortune brought by the dragon fruit's name, shape and colours. The majority of the dragon fruit is used for value-added products.
Dragon Fruit Farming is a relatively young industry in South Africa, local dragon fruit farms show huge potential to deliver substantial amounts of fruit to northern hemisphere markets....
more