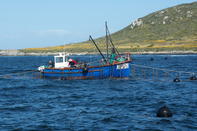 ©Willem Viljoen
The Aquaculture Association of Southern Africa (AASA) was established in the late 1980s to represent the then underdeveloped aquaculture industry of South Africa.
The association has since developed into a multi-sectored initiative focused on marine species, freshwater species and service providers, which are made up of feeding companies, equipment suppliers and veterinary services.
AASA's primary aim is to contribute to the growth and development of the South African aquaculture industry through industry support, representation and promotion, as well as research and dissemination of information to industry partners.
AASA also works to ensure the local aquaculture industry remains economically sound and environmentally sustainable, which allows for aquaculture to continue to contribute to the social, economic and environmental wellbeing of South Africa. The association is a body corporate that is run by a management committee elected at their biannual conference.
There are several sector representatives that contribute to the Aquaculture Association of Southern Africa, including: Abalone Farmers' Association of South Africa, Catfish Producers, Marine Finfish Farmers' Association of South Africa, Tilapia Producers, Trout Association of South Africa, the Mpumalanga Trout Forum, shellfish producers, research institutions, ornamental producers and emerging farmers.
The commercial production of aquatic plants and animals is called aquaculture and can be divided into freshwater aquaculture and sea or saltwater aquaculture. Seawater aquaculture is also termed 'mariculture'....
more