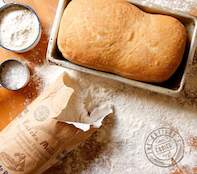 ©Eureka Mills
Eureka Mills is a family-run business that focuses on the production of stone ground flour.
Based in the Overberg region of the Western Cape, the company is dedicated to supplying quality flour to South African consumers.
Eureka Mills started as a family business in 1998 when two local farmers set up a rudimentary flour mill in their shed with the initial purpose of adding value to the wheat they themselves produced. They soon realised that there was a real need for healthy, unbleached flour and the need was much larger than they had originally anticipated.
The mill slowly expanded as the demand for flour increased, and the team decided to take in wheat from other farmers in the district, via the local co-operative (Sentraal-Suid Kooperasie), to ensure consistent production capacity. Since its inception, Eureka has milled only top quality, locally produced wheat which is both GMO and glyphosate free.
As the business grew, so did the team's passion. This passion was distilled to a simple, clear vision that continues to drive the business to this day: creating a healthy bread and flour culture in South Africa.
Eureka Mills works with a number of distributors and retailers nationwide that supply their products to the local market, such as Pick n Pay, Woolworths, Checkers and Food Lover's Market.
Stone ground flour is nothing new, but dates back to ancient Egyptian times when grains were crushed with a stone mortar or with a saddle stone, where the grain was crushed in a stone bowl by rolling a cylindrical stone over it....
more