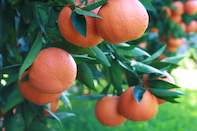 ©Louise Brodie
Citrogold was one of the first citrus cultivar management companies in South Africa and today has one of the biggest portfolios of protected citrus varieties worldwide.
The company also manages the Nadorcott variety in several Southern Hemisphere countries, which is one of the most successful soft citrus varieties to date.
Citrogold was launched as a joint venture between Capespan and Citroplant in 1999, after these two companies realised the market potential for the management of exclusive citrus cultivars. The small company soon grew into a leading citrus cultivar development company, lending valuable technical and cultivar management expertise to the citrus industry in South Africa.
Citrogold started out with a few citrus varieties, such as Nardorcott, Orri, Eureka, Seedless Lemon and Mor, but soon its portfolio was expanded to include other fruit.
Today, it has over fifty commercially available varieties in its portfolio, with roughly thirty being under evaluation that will become commercially available, and another two-hundred that are being tested. They have offices in Spain, the United States, Chile and the United Kingdom.
A wide range of soft citrus varieties is planted in South Africa. This can roughly be divided into three groups: mandarins, clementines, and satsumas....
more