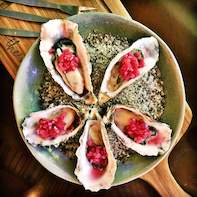 ©Viking Aquaculture
Viking Aquaculture is a supplier of farmed seafood products, situated in Hermanus in the Western Cape and aims to bring consumers the freshest and highest quality seafood available on the Southern African coast.
This young and dynamic company works with some of the most knowledgeable and experienced aquaculturists in South Africa, and has partnerships with and various marine product specialists around the country.
The companies that form part of Viking Aquaculture collectively provide 300 jobs in the Harmanus community, and this number is expected to continue growing as they expand into sea cage farming and increase production at its oyster and mussel farms.
Marine aquaculture is mostly focussed along the coast of Western Cape, Eastern Cape, KwaZulu-Natal and the Northern Cape. Viking Aquaculture works with a number of farms in the Western Cape and Eastern Cape and another farm in the neighbouring country of Namibia.
Their products include:
Premium quality live, canned and dried abalone
Live oysters, grown in pristine waters off Namibia and South Africa
Live mussels from a sheltered bay on the west coast of South Africa
Fresh and frozen rainbow trout from South Africa's winelands region
Viking Aquaculture is key players on both the local and international market, and work with a number of exporters, local retailers and informal traders to distribute their products.
Marine aquaculture - also called mariculture - refers to the farming of animals and plants in seawater including oysters, mussels, finfish, abalone and seaweed...
more