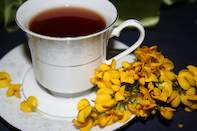 ©Agulhas Honeybush Tea
Agulhas Honeybush Tea are the growers, producers and suppliers of organic Honeybush herbal tea which is indiginous to South Africa and is found close to the Fynbos areas in the Western and Eastern Cape.
The Agulhas Honeybush Tea farm was established in 1994, in the Overberg region of South Africa. There was very little knowledge at that time about the ecological preferences of Honeybush Tea or its general contribution to the tea industry. The Agulhas Honeybush Tea farm began planting Honeybush tea on a main breeding plantation block on the farm.
It started the testing process to determine which of the 20 Honeybush Tea species that exist preferred the climate on the farm. Thereby, influencing which Honeybush Tea species would later be planted on a larger scale.
Currently, Agulhas Honeybush Tea farm has approximately 60 hectares of prime Honeybush Tea in production. The farm follows a meticulous breeding programme to select the plants that show the most desirable growth. The breeding programme also ensures that Agulhas Honeybush Tea partakes in sustainable farming practices in order to constantly expand the farm's tea fields without harvesting seeds from the wild.
The farm has invested in a lot of research over the years and this has led to the development of a C. Genistoides genotype (a Honeybush Tea species) that is able to adapt to harsh weather conditions, is disease resistant and can survive on natural rainfall alone.
All of Agulhas Honeybush Tea is harvested from the farm's own sustainable sources which is a measure that contributes to the conservation of the natural genetic diversity. The farm carefully considers decisions regarding harvesting, planting, breeding and processing of Honeybush Tea in order to ensure sustainable and organic farming practises to produce the best quality of their well-known natural Honeybush Tea.
Honeybush is the name of an indigenous fynbos shrub in South Africa. The plant is a member of the Fabaceae (Leguminosae) family and has yellow flowers that emerge in springtime, usually from September to December....
more