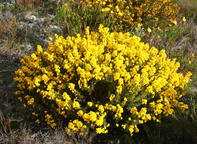 © Agulhas Honeybush Tea
Honeybush growing wild on the Agulhas Plain, South Africa.
Honeybush is the name of an indigenous fynbos shrub in South Africa. The plant is a member of the Fabaceae (Leguminosae) family and has yellow flowers that emerge in springtime, usually from September to December. The sweet fragrance of the flowers strongly resembles that of honey. However, it is the vegetative parts of the shrub and not the flowers that are used to make a refreshing sweet-tasting herbal tea rich in antioxidants.
By Marinda Louw