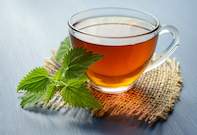 The South African Rooibos Council (SARC) is an independent and voluntary industry organization, whose members are involved in processing, packing, branding, and exporting of rooibos tea. The South African Rooibos Council is managed by a Board of Directors elected from and by its members to represent the various stakeholders in the Rooibos value chain.
The principle mandate of the South African Rooibos Council organization is to responsibly promote rooibos and its attributes to the consumer and protects the interests of the rooibos consumer and South Africa Rooibos Council stakeholders supported by effected research and communication.
Jointly, the membership of the SARC represents an estimated 80% of the volume and value of the annual production and sales of Rooibos. The South African Rooibos Council has been incorporated under South African law as a section 21 (not-for-profit) company.
Rooibos tea is a herbal tea indigenous to South Africa. The plant occurs naturally only in the intersect between the winter rainfall area and fynbos region of the south-western part of South Africa, where the plant is uniquely adapted to the geography, geology and climate of the region.
Rooibos is the common name traditionally used throughout Southern Africa for the products and extracts from the Aspalathus linearis plant. The name means redbush tea and it is derived from the natural, red colour of the tea leaves when dried in the sun.
The caffeine-free rooibos tea of South Africa, also known as red tea, is reputed to have medicinal properties. Rooibos tea benefits include lowering the incidence of cancer due to its antioxidant properties....
more