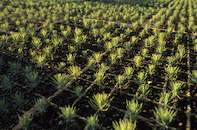 ©Roger De la Harpe
The Seedling Growers' Association of South Africa (SGASA) is an active non-profit organisation that was established in 1981 to represent the interests of commercial seedling growers in South Africa.
Seedling Growers' Association of South Africa (SGASA) was formed a few years after seedling company Roode Lyon first introduced seedling trays to South Africa. Soon after, seed growers began to notice the benefits of a seedling tray system in comparison to the seedbed production of seedlings. Thus they began to adopt the system that has grown to dominate all timber, vegetable and bedding plant seedling production nationwide.
Seedling Growers' Association of South Africa aims to ensure that seedling growers and members of the organisation have access to accurate and relevant information regarding the seedling industry and assists with common problems that seedling growers face. SGASA offers certification, membership and research.
Through an internally developed certification scheme that entails a safety, quality and compliance management system, the association is able to reassure customers that the products produced from nurseries have a reduced environmental impact and use fewer chemical products. They are also guaranteed that the nursery staff works under safe conditions in which their health is prioritised. In addition, SGASA plays an essential role in the formulation of legislation and policies for the industry and its roleplayers.
Seedling Growers' Association of South Africa is a membership-based association and members of the association have access to research and benefits pertaining to seedling-related issues. SGASA substantially invests in research projects to enable the sustainable development of the seedling-growing industry, which in turn creates an accurate and undisrupted flow of information, research, legislation and policies for industry roleplayers.
South Africa's agricultural sector is one of the world's most diverse, consisting of corporate and private intensive and extensive crop farming systems, including vegetable, fruit, grapes...
more