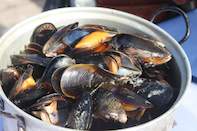 ©Blue Ocean Mussels
Mussel farming in South Africa started over 30 years ago by a company that is now known as Blue Ocean Mussels.
South Africa's premium mussel farming operation, often referred to as 'the BOM', has built a legacy of producing quality local mussels and mussel products accompanied by excellent service. The prime location in Saldanha Bay has served the BOM with fresh, unpolluted and nutrient-rich seawater four sourcing premium, tasty mussels. The location was an obvious choice given it is a protected, deep and nutrient-rich water that provides prime conditions for the farming of quality mussels.
Blue Ocean Mussels aims to be the primary supplier of South African black mussel products and as pioneers in the industry, the company created over 200 hundred jobs through its farm in Saldanha Bay and the factory in Velddrif. Blue Ocean Mussels is also a part of the TerraSan Group, which is a South African investment company that holds investments in pelagic fishing, mariculture, aquaculture and property industries. TerraSan Group and Blue Ocean Mussels share an underlying intention with regard to sustainable aquaculture practices and valuing South African marine resources by investing in projects that promote and maintain this aim.
Through the purchasing of local mussel products, cooking mussels at home or adding mussel culinary dishes to menus, it creates a system of growth and support to the industry and in turn, benefits the South African economy.
Mussel farming in South Africa is based on two mussel species, the indigenous black mussel and the exotic Mediterranean mussel....
more