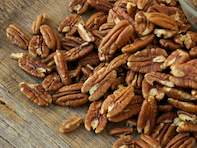 The South African Pecan Nut Producers' Association (SAPPA) was launched in 1992 to look after the needs of pecan nut producers.
Chris Roux was appointed as the South African Pecan Nut Producers' Association's first chairperson at the founding meeting on 18 April 1991, with the first meetings with SAPPA's regional representatives taking place at Roodeplaat Research Centre on 19 March 1992. The first AGM was held in Nelspruit on 29 October and the first newsletter was published in November that same year.
South African Pecan Nut Producers' Association (SAPPA) started out with 23 members and 12 non-members, ending up with 64 members by the end of its first year. Initially only primary producers were accepted as members, with membership fees amounting to R100 per year during the first few years.
By 2007, SAPPA was an established organisation with roughly 300 members paying R600 for membership per year. The industry was growing and a tree census revealed that 63% of the orchards were less than seven years old, with tree sales increasing annually. Regional representatives realised there was an urgent need for research to reduce risks and ensure efficient production.
To finance this, SAPPA followed the example of other industry organisations by applying for a statutory levy calculated on the volumes of pecans produced. The statutory levy was approved in 2012, resulting in SAPPA switching from a grower association to a non-profit company in 2015, to better accommodate the growing industry.
South African Pecan Nut Producers' Association (SAPPA) has played an important role in establishing a commercial pecan industry in South Africa, with the country today being the third biggest producer of pecan nuts internationally. Production is nevertheless low, accounting for only two to four percent of international production. Mexico and the United States continuously compete for the first position, together accounting for more than ninety percent of production internationally.
South Africa is the third largest international producer of pecan nuts, but volumes are quite insignificant as the United States and Mexico, together, account for roughly 90% of the global production....
more