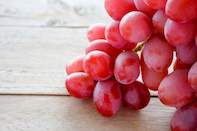 The South African Table Grape Industry (SATI) is an association dedicated to creating a progressive, equitable and sustainable table grape industry nationwide.
The South African Table Grape Industry are committed to maintaining South Africa's position as the preferred country of origin for table grape retailers around the world.
SATI's mission is to become a progressive, growth-oriented industry representative, recognised as a global leader in the Table Grape Industry and an authentic leader in the South African agricultural sector.
Table grape production started in the mid-17th century, when European settlers brought grape vines to plant in the fertile soil of the Western Cape area. Since then, South Africa has become a leading producer of table grapes, that are harvested and packed for the fresh fruit market.
The South African Table Grape Industry association aims to expand the industry's opportunities within existing markets, and to diversify the industry's current market risk profile to improve and protect its position in the global table grape market. SATI will achieve this through the consolidation of producer and exporter efforts, as well as the development of credible people and practices in the industry, building strong alliances and partnerships with all stakeholders
Local consumers have come to expect the highest quality of grapes, available in a number of varieties, grown in their own backyard. The most prominent table grape production regions include the valleys of the Berg and Hex Rivers in the Overberg, the bushveld in the tropical north, the foot of Table Mountain in the Western Cape and the dry desert land of the Orange River.
Table grapes are grapes produced for fresh consumption as a fruit. This sets them apart from grapes produced for making grape juice, wine or raisins. The grapevine is known as Vitis vinifera and is native to the Mediterranean region....
more