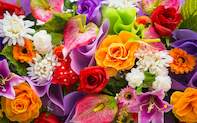 The South African Flower Growers Association oversees the levies, administration and import-related tasks for all non-indigenous flowers in South Africa.
SAFGA was founded in the late 1940s as the South African Bulbs Growers Association. They handle all non-indigenous cut-flowers, such as roses, lilies and chrysanthemums, while the organisation Cape Flora SA works with the production and export of the Protea family of indigenous cut-flowers.
Non-indigenous cut-flowers are popular among local consumers and are sold nationwide. Most Flower growers in South Africa focus on types such as roses, lilies, carnations, ferns and foliage such as ornamental grasses. Tulips are grown by a small number of specialist growers and orchids are grown by a nursery near Darling in the Western Cape.
Most flowers are sold on the country's main export market, Multiflora. It is located in the province of Gauteng and sees some 300 million flower stems a year pass through its doors. It is known as the largest flower 'mall' in the southern hemisphere, and both wholesalers and consumers are welcome to buy flowers from the market. Growers can set up a membership with Multiflora, which is available on their website.
The flower industry in South Africa is divided into two sectors - Cape Flora SA and the South African Flower Growers Association....
more