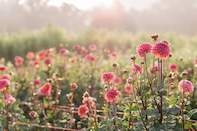 South African Flower Growers Association works to improve the environment of its industry, and to provide useful information to its members, as well as to those who have an interest in the South African flower industry.
The country grows around 10% of all the world's diversity of flora, and many indigenous flowers are located within protected areas. Non-indigenous flowers are thus vital to the industry to ensure export quotas are maintained.
SAFGA also organises technical info sessions, grower days and attendance of international trade shows. Flower growers have access to insider information from the global industry, which in turn ensures better floriculture practices.
SAFGA is instrumental in overseeing the trading of flowers alongside Multiflora Flower Market. About 54 airlines across South Africa are dedicated to the daily export of fresh cut flowers to other continents every day. Most of them are provided with the special refrigerators where the flowers are kept during the flight in the necessary temperature conditions.
The flower industry in South Africa is divided into two sectors - Cape Flora SA and the South African Flower Growers Association....
more