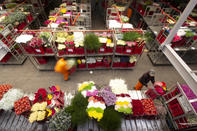 ©Marinda Louw
At the Multiflora Flower Market in Johannesburg, imported and locally-produced flowers are auctioned and distributed.
The flower industry in South Africa is divided into two sectors - Cape Flora SA and the South African Flower Growers Association.
Cape Flora SA handles the levies and administration of the production and export of the Protea family of indigenous cut-flowers.
The South African Flower Growers Association (SAFGA) was founded in the late 1940s as the South African Bulbs Growers Association and handles non-indigenous cut-flowers, such as roses, lilies and chrysanthemums. SAFGA organises technical info sessions, grower days and attendance of international trade shows.
History of Cut-flowers in South Africa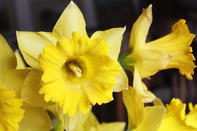 ©Marinda Louw
Daffodils and other bulbs were grown as cut-flowers in South Africa in the early days.
According to Jac Duif, director of the South African Flower Export Council (SAFEC), the flower industry started in 1944 in Johannesburg, with four South African and Dutch-origin flower growers as its first members. Previously flower sellers sold their wares from tables rented at the municipal market.
In 1948 a flower market was established, Multiflora, the Johannesburg flower auction, which is still the biggest flower market in Africa. Flowers were transported by train, bicycle and horse-drawn cart. The use of cardboard boxes for the packing of flowers was introduced in 1950.
Most flowers in the early days of the cut-flower industry in South Africa were grown as bulbs - gladioli ('sword lilies'), daffodils, the purple-blue Dutch iris and lilies. Other flowers in the early days were calendula ('marigold'), larkspur, candytuft (Iberis sempervirens) and belladonna delphinium.
In 1973, the South African Bulb & Flower Growers Association was established with 30 members, the membership grew to around 50 in the 1980s. Currently, membership is 35, as many smaller growers are closing their operations, due to labour costs and other operational difficulties. The larger flower producers in South Africa typically employ between 20 and 120 staff members.
Production of Cut-flowers in South Africa
The growing of non-indigenous cut-flowers is mostly centred in the northern provinces of South Africa, whereas the production of proteas and other indigenous cut-flowers is predominantly in the Western Cape.
Very few non-indigenous flowers are still grown in the open; most are grown under either plastic or shade nets.
Non-indigenous flower growers do not pay levies, so accurate statistics are not available. This is in contrast with the levy system for indigenous cut-flowers, where a fee is levied on the export of flowers - per stem. More data is, therefore, available to determine production figures of indigenous flowers.
The advantage South Africa has, as a southern hemisphere country, is that certain flowers are available at times when the northern hemisphere markets are depleted. For example, when the availability of Eucalyptus leaves is low from April to July South African flower exporters can supply the market. Similarly, South Africa's only Cymbidium producer (orchids) can supply the Japanese market when orchid availability is low.
Types of Cut-flowers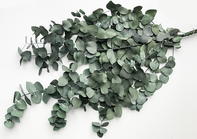 ©Atlas Flowers
The grey leaves of the Eucalyptus cinerea have become very popular in Europe during their spring.
The most popular non-indigenous flowers grown are roses, Chrysanthemums, lilies, Gypsophila ('baby's breath'), Limonium (known as 'sea-lavender or 'statice) and carnations. Other flowers, mainly grown from seed include sunflowers, asters, Delphiniums, Dianthus, ferns and other foliage such as ornamental grasses. In Europe, these seed-grown flowers are generally called 'summer flowers'.
Tulips in South Africa are also grown by a few specialist growers and orchids are grown by a nursery near Darling. Greens like ferns, grasses and foliage such as Eucalyptus (pennygum) are also grown in South Africa.
Imports and Export of Cut-flowers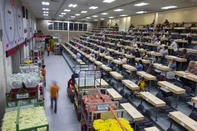 ©Marinda Louw
The Multiflora Flower Market in Johannesburg is where flowers are sold through an auction systems and then distributed throughout South Africa.
The Multiflora flower market in Johannesburg, together with wholesale flower sellers, handles and markets about 40 - 50% of cut-flowers through an auction system. The rest of South Africa's cut-flowers are sold directly between farmers and wholesalers, supermarkets and exporters.
Imported flowers from countries such as Zimbabwe, Kenya, Ethiopia and orchids from Asia are received and marketed through Multiflora.
Most flower exporters are conveniently situated; close to the O.R. Tambo airport in Johannesburg or Cape Town International Airport.
About 80% of South Africa's flower exports are proteas and fynbos with the rest mainly chrysanthemums and lilies. Roses are the most popular in South Africa, but almost no roses are exported, as Kenyan and Ethiopian rose farmers supply the European market.
Main importing countries of South African flowers are Europe, England, Russia, Japan and the USA. Chrysanthemums from South Africa are popular in the Middle East, while the popularity of the grey foliage Eucalyptus cinerea has soared from April to July 2019. Leatherleaf fern and certain grasses are also popular in Europe. However, irrespective of the season, white flowers remain a staple on any South African flower exporter's menu.
By Marinda Louw