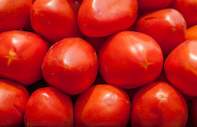 The Tomato Producers' Organisation (TPO) is a body that acts in the interest of the producers of fresh tomatoes in South Africa.
Tomato Producers' Organisation (TPO) was founded to act on behalf of its members regarding decisions that affect their interests. Tomato farmers, packers, by-product producers and sellers are represented by the organisation.
The Tomato Producers' Organisation is a national representative body for all tomato interests, in which all tomato producers and stakeholders can participate. They deliver coordinated views to the government and authorities on matters relating to members and the tomato industry, as well as encourage cooperation in all matters relating to the welfare of the tomato industry, solving problems and the establishment of the necessary laws and regulations.
TPO's objective is to establish and maintain, through collective action, appropriate facilities and services for the members of the organisation and, for this purpose, to organize the tomato industry and to create the necessary service programs. In addition, they are committed to cultivating and promoting unity and a spirit of cooperation among tomato producers.
Their focus also lies in the systematic development of the tomato industry, which includes preservation of resources (land and water), the maintenance and improvement of soil fertility, production, and marketing methods.