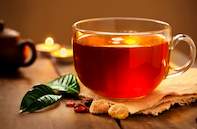 Carmién Tea offers a unique taste of South Africa with an extensive range of indigenous rooibos tea products.
Situated on the foothills of the scenic Cederberg mountains, the farm is blessed with the natural terroir needed for rooibos to be cultivated in harmony with nature. Carmién Tea is one of the leading producers of rooibos tea in the country, making them true pioneers of industry. It's thus no surprise that with every cup of Carmién rooibos tea, comes a world of flavour and pure freshness.
Carmién Tea is the brainchild of Mientjie Mouton, a dynamic woman who saw the potential in large-scale rooibos production and established the company in 1998 on the historic Brakfontein Estate farm near Citrusdal in the Western Cape. Mouton grew up surrounded by the indigenous rooibos plant on a neighbouring farm before moving to Brakfontein Estate. After the inception of Carmién Tea, Mouton built the company up to what it is today - a successful, proudly South African enterprise committed to delivering quality rooibos tea products.
Carmién Tea is sold locally at any good retailer, and bulk orders can be placed on their website. Whether you are spending time with friends or cuddling up with a good book, a cup of Carmién is the perfect companion.
Rooibos tea is a flavourful and nutritious tea with health benefits, made from the needlelike leaves of the Aspalathus linearis plant, indigenous to the mountains in the Cederberg area of the Western Cape....
more