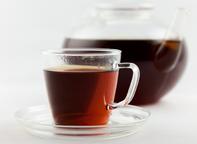 © André Helbig
Rooibos is a caffeine-free herbal tea, that can be enjoyed as a hot drink, iced tea or mixed with fruit juice.
Rooibos tea is a flavourful and nutritious tea with health benefits made from the needlelike leaves of the Aspalathus linearis plant, indigenous to the mountains in the Cederberg area of the Western Cape. The aromatic tea was made by inhabitants and early settlers in the Cape by steeping the leaves in boiling water. Technology has since expanded the applications of this plant; from bulk-packed loose tea and teabags to powdered rooibos extract for instant tea in espresso machines.
Rooibos Tea Benefits
Rooibos is rich in flavonoids and antioxidants, contains no oxalic acid or caffeine and is low in tannins. It is available as conventionally produced or certified organic and, depending on the supplier, can be Halaal and Kosher certified.
Uses of Rooibos
This nutritious plant can be used for a variety of applications, depending on the form of the product - from a coarsely cut tea to a water-soluble powder. Rooibos tea is used in hot and cold drinks, juices, ice tea concentrates, milk-blends, yoghurt and liquors. Rooibos tea food products include rooibos spreads, rooibos and rye bread, snack bars and rooibos sauces with soya sauce and balsamic vinegar.
New rooibos products include rooibos beer, sweets and rooibos espresso capsules.
Types of Rooibos Tea Products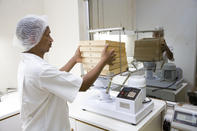 ©Rooibos Ltd
As part of the quality control process, rooibos tea is sifted to confirm the required particle size.
Rooibos extracts have a wide range of applications including food and cosmetics. It is soluble in hot water or cold water and is available as 100% rooibos or mixed with maltodextrin (thickener).
Rooibos extracts are used in iced teas, chai tea mixes, cosmetics, nutritional supplements, cereals and instant hot drinks.
Rooibos aroma is also made in South Africa. This water-based volatile aromatic compound of naturally fermented rooibos can be used to enhance the rooibos flavour in products.
Rooibos tea can be cut into different size grades, depending on the final use. For example: 'short cut' is medium-sized particles and suitable for a variety of uses, while 'long cut' is coarse and suitable for blending with fruit pieces and spices. 'Extra fine cut' presents the strongest rooibos flavour and is used in espresso machines and confectionery.
Green rooibos often includes more loose leaves.
Teabags can be either bleached or unbleached. Ozone bleaching has replaced chemical bleaching and has reduced the demand for unbleached teabags.
Packaging of Rooibos Products
Depending on the final use and application of the tea, rooibos can be packed in a variety of sizes and packaging materials to ensure easy transport and freshness of the product. Rooibos tea is available as packed products or loose - in bulk.
Packed rooibos tea products:
Rooibos teabags are available as 2 g and 2.5 g and can be tagged or tagless. Teabags can be packed in display cartons or in pouches. Display cartons and pouches are packed with 20, 40 or 80 teabags.
Rooibos teabags are also bulk packed to 200, 500 and 1 500 units.
Loose tea is packed in ziplock bags of 200 g, 500 g and a 2.5 kg bulk pack.
Powdered rooibos extract is packed in 125 g pouches.
Bulk rooibos tea is packed in paper bags, bulk bags or vacuum boxes. These are palletised and stretch-wrapped.
Bulk-packed rooibos extracts are packed in quantities of 2.5 kg to 18 kg in food-grade plastic bags.
By Marinda Louw and Rooibos Ltd.
For bulk or Rooibos Tea Products export enquiries please use the enquiry link below.