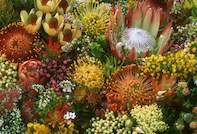 Cape Flora SA, a non-profit company (NPC), was established in 2005 with the goal of determining the key needs of fynbos and protea production in South Africa.
The flower industry of South Africa is divided into two sections - indigenous and non-indigenous flowers. The non-indigenous flower industry is represented by the South African Flower Growers' Association, and Cape Flora SA supports all indigenous flower production.
Cape Flora SA is a prominent figure in the indigenous flower industry, and they are focused on the marketing and sale of superior quality flower products. South African indigenous flora consists of fynbos, which are distinctive cut flowers produced for both the local and international fresh and dry flower markets.
Cape Flora SA focuses on four umbrella cultivars of fynbos - protea, leucospermum, leucadendron and greens - which consists of a large number of subspecies. The protea is South Africa's national flower, and is a popular variety both locally and internationally.
Furthermore, Cape Flora SA works to increase the sustainability of the country's fynbos regions, as the ecosystem is under threat due to the overextension of farming sectors, loss of habitat, unplanned veld fires and pollution. South Africa is home to the Cape Floristic Region, which is the source of all fynbos flowers; it is thus of great importance that the integrity and biodiversity of the region is protected and kept to a high standard.
The flower industry in South Africa is divided into two sectors - Cape Flora SA and the South African Flower Growers Association....
more