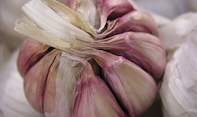 ©Louise Brodie
The South African Garlic Growers' Association (SAGGA) is a representative body for local garlic growers and producers that was founded in 1991.
Garlic (Allium sativum) belongs to the Alliaceae family, the same family as onions, shallots and leeks. SAGGA represents most garlic growers in South Africa who are scattered across the country. They are committed to promoting the common interests of garlic producers and assist with any problems within the garlic growing industry. Their objective includes the growth of the industry and increasing the quality and quantity of South African garlic production.
This is done through a series of mechanisms SAGGA has put in place to research and monitor the quality of garlic that is marketed, and to accurately advise producers about improved production, quality, packaging and marketing trends. The association also ensures garlic consumers are aware of the different uses of garlic, which in turn stimulates garlic sales nationwide.
SAGGA works with a number of research institutes that implement projects to improve the quality of local planting material. This ensures garlic growers and the broader organisation have access to accurate and relevant information regarding the garlic industry and that there is research to aid with common problems that garlic growers face.
They also host information conferences bi-annually that creates an opportunity for role-players and industry partners to come together, discuss important matters, share knowledge and have access to information provided by industry professionals. The association sets out to preserve the sustainability of the industry and also protect the industry from the unfair competition.